Mountains with fairytales and legends: the somewhat different experience
The Green Ring
A unique hike
Anyone who wants to see Lech through different eyes is invited to a surprising and moving world. The Green Ring is a 28.5 km hiking route that combines the moody mountains with mystical spirits of nature and mythical creatures in 3 sections with the help of a literary hiking map. Be prepared.
As in certain forest clearances, in particular gorges and behind one or two rock formations lies a truly fabulous story. And very special creatures.
Nature and fantasy: anyone who is up for it will be amazed
With a great deal of empathy, a feel for the mysterious surroundings and a wink of the eye the artists Daniela Egger and Nikolaus Kocher created a world of legends and fairytales that takes a closer look at the unusual. Existing natural landscapes were included and artistic installations were added with affectionate ease. Coordinated to the old legends and stories that were especially written for the hiking trail the Green Ring leads to mythical creatures and geographical unique features.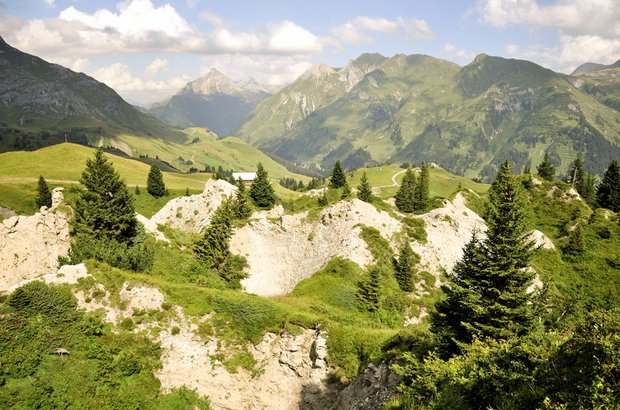 With the Seekopf cable car directly to the 2nd stage
Since the theme trail "The Green Ring" was opened in June 2010, it has been highly popular with hikers and adventurers young and old, who want to discover nature while also experiencing culture. On a three-day hike in stages, you can be out and about on a great circuit through the alpine scenery of Lech Zürs, and fully immerse yourself into a lovingly staged fairytale world, full of lasting impressions.
Due to the summer operation of the Seekopf cable car, hiking fans and day-trippers can get to the start of the 2nd stage of the Green Ring, quickly and in comfort. This makes accessible a fabulous hiking area around Zürsersee Lake, via Madloch to Zug. The Seekopf mountain restaurant beckons to enjoy regional specialties, located next to a playground, Zürsersee Lake with a floating platform and a public barbecue area with free firewood.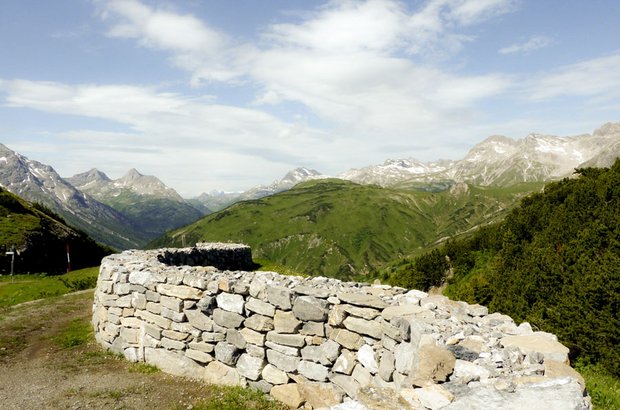 Of literary value: take time for yourself and hike mindfully
The wonderful thing about the Green Ring is that it gives anyone a great opportunity to finally explore and experience something again. And in particular: to look more closely at things. As with the literary hiking map in your luggage you will only be too happy to be tempted to stand still for a minute and read. The three stages lead past unknown places up to three peaks that simply have to be conquered. Venture a trip into a world where reality and appearance effortlessly merge into each other. Inspiration and many new perspectives await you when a whole new view of the alpine world of the Arlberg opens up to you. Who knows, you might even sneak a peek of a spirit of nature or mythical creature.
Even great explorers look forward to genuine hospitality at the 4-star Hotel Aurora or Braunarl residence after an impressive time in Lech's world of legends and fairytales. And we look forward to your non-binding enquiry.