Tanzcafé Arlberg Music Festival
Spring in Arlberg is unique. Everything springs to life and begins to bloom. And yet despite this, it is still possible to whizz down the well-prepared ski slopes in the sunshine. But spring also awakens a desire in us to dance! So what about combining skiing with dancing? It can be done – and it happens every year, throughout April, at the Tanzcafé Arlberg Music Festival. From lively to cosy, from concerts to dance workshops – there is something to suit every taste at this music event!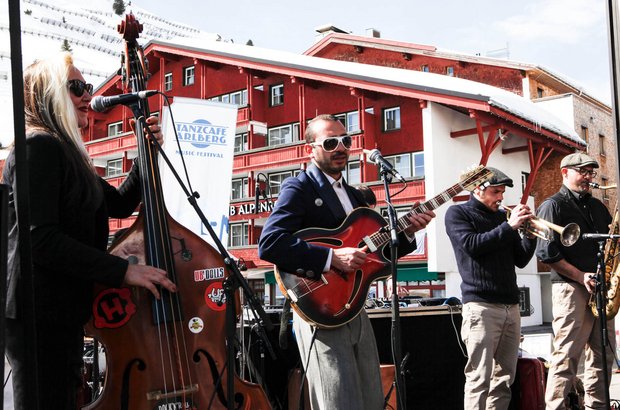 Musical stop off on the Arlberg
April on the Arlberg impresses with some dreamy days of sunny skiing in the Lech Zürs ski resort. And one thing is essential: the perfect place to stop off for a break. And in this case, there is both music and variety. In addition to the cosy après-ski offers at the numerous mountain lodges and bars, the Tanzcafé Arlberg Music Festival provides visitors with a chance to dance, sing and enjoy themselves throughout the entire month of April. Cool bands conjure up a special ambience on the sun terraces, at the ski lodges and in various hotel bars.
Concerts at the Tanzcafé Arlberg Music Festival
As part of the Tanzcafé Arlberg Music Festival (31/03 - 14/04/2024), numerous bands and music groups perform in a range of locations. Concerts of various genres take place several times a day such as Swing, Rock'n'Roll, Blues, Jazz and Pop. Dance and music workshops are also offered. Whether high up on the terrace of a ski lodge or in a bar in the valley right by the piste – top entertainment and a fantastic atmosphere are guaranteed! The most exciting thing is the combination of skiing, musical enjoyment and dance. Top international musicians come together here with traditional music lovers, dancing enthusiasts and fans of skiing in the sun! A great mix for a fantastic holiday in Lech am Arlberg.
Want to experience the Tanzcafé Arlberg Music Festival live?
Then you've come to the right place at the Hotel Aurora in Lech am Arlberg. Here you can experience events up close and personal while also savouring the tranquillity of nature. Feel free to send us a non-binding enquiry or call +43 5583 23 54 0. Let's hit the dancefloor together!