Winter at Hotel Aurora in Lech am Arlberg
A whole world full of winter bliss! The white magic that covers Lech am Arlberg so beautifully boasts white slopes and sporty panache. And it's all waiting for you, dear Guests. A fantastic winter in the mountains. And the best place to enjoy it is at Hotel Aurora which is situated right in the middle of this winter paradise. In Lech of course – famous as one of the best ski resorts in the world. Heaven for skiers and winter sports enthusiasts. With 350 km of slopes that are all connected to each other.
The team at the Hotel Aurora is already looking forward to welcoming you. You should feel really well looked after in this extremely warm and friendly atmosphere. And above all feel free to enjoy your holiday just how you want it to be. We do everything to transform your time here with us in Lech am Arlberg into your most wonderful holiday ever.
A 4-star holiday in Lech am Arlberg
Our Hotel Aurora in Lech am Arlberg exudes a stylish ambience, offers first-class regional cuisine and the best location for your summer and winter sports adventures. But above all it's the many little details that give our hotel that certain something special. The heart-warming feelings, the lovely details, the many sunny moments. That is what should always remind you of your holiday with us in Lech am Arlberg.
The hotel's outstanding location against the picturesque natural backdrop of the Arlberg mountain provides the ideal conditions for an all-round successful holiday for you and your loved ones. Be sporty and active with skiing and winter hiking or cross-country skiing and tobogganing. Or relax in the hotel's own spa. Sauna, steam bath, massages and more reenergize you after a day packed with wonderful winter adventures.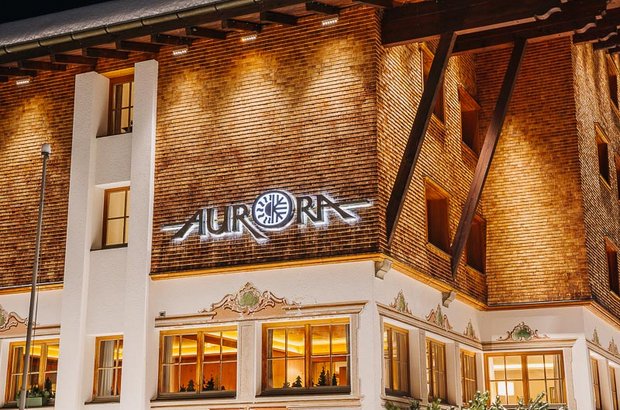 A variety-packed winter in Lech am Arlberg
We will be happy to show you the most beautiful aspects of winter in Lech, and are always there to assist you with planning your eventful winter holiday. Because we know Lech like the back of our hand we have a whole load of insider tips up our sleeve for you, and the most beautiful downhill runs and tours that are waiting to be discovered. You can also book your personal guide for totally private winter adventures through us. And if your taste is very exclusive: why not try out heli-skiing! An unbeatable experience all to yourself. So much can be so indescribably beautiful here during the Lech winter. However you want to spend your days here in Lech – it's our wish that what you experience remains in your hearts for a really long time to come.
The team at Hotel Aurora will be happy to conjure up the most fantastic winter skiing holiday for you in Lech. Send your non-binding enquiry to us straight away!