APARTMENTHAUS BRAUNARL
Useful facts for your stay
Measures in Haus Braunarl
We in Haus Braunarl, too, make every effort to properly implement the Corona-measures in order to let you enjoy a safe holiday. That's why we observe all hygiene measures as ordered by the authorities. In addition, our staff is trained and tested for Covid-19 weekly. Our feel-good area with sauna, steam bath and chill out area is opened.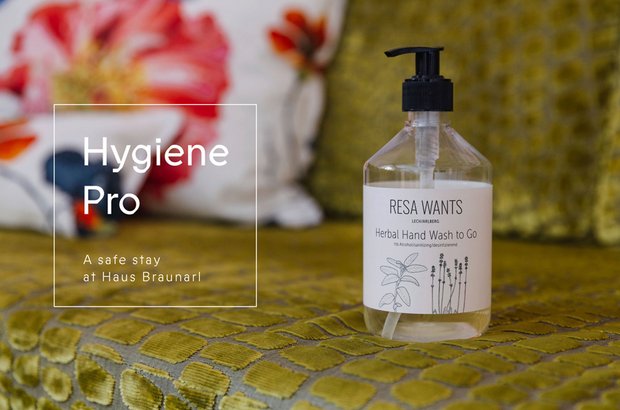 News
For entry into Austria, the "2G+ rule" currently applies

2x vaccinated + PCR test OR
recovered + PCR test
The PCR test obligation does not apply to persons who have received a booster vaccination (3rd vaccination or 2nd vaccination for Johnson & Johnson). People who have recovered from COVID-19 and been vaccinated twice also do not need a PCR test.
Children under 12 years of age are exempt from the obligation to provide proof.
For children and teenagers between 12 and 15 years of age, these exemption provisions apply.
Please note that the entry requirements for Austria are constantly changing. For more information, please click HERE. Click Here for further information.
2G-rule as permission to enter and for Check-In (vaccinated or recoverd):

Recovered people: Confirmation of recovery from a COVID19 infection that has been passed through (validity of proof of recovery: 6 months - segregation notice, medical confirmation).
Vaccinated people: Full immunisation (second vaccination or vaccination where only one vaccination is scheduled) counts as proof of vaccination. A first vaccination is not sufficient. Validity of the proof of vaccination: 9 months from full immunisation.
Children under 12 years of age do not need proof of entry. For school-age children between 12 and 15 years of age, the Austrian "Ninja Pass" or the "Holiday Ninja Pass" is valid as 2G proof: 2x per week PCR test with validity of 72 hours and 1x antigen test with validity 48 hours. These tests are entered in the "Holiday Ninja Pass". You can find more information about the "Holiday Ninja Pass" HERE. The 2G rule (vaccinated or recovered) applies to children from the age of 16.

Compulsory wearing of FFP2-masks in gastronomy & hotels, public transport, shops and in all publicly accessible areas
When leaving Austria, you will need a PCR or antigen test, or the 2G- or 3G-Rule is applicable depending on your home country.
Possibility at sport.park.lech (bring photo ID):

Further information here: www.lechzuers.com | www.austria.info
General cancellation conditions
The regulations of the Austrian Hotel Association apply. Up to 3 months before arrival the stay can be cancelled free of charge. Up to one month before arrival 40% of the total price, one week before arrival 70% of the total price and after that 90% of the total price will be charged as cancellation fee. We are of course even more pleased if you postpone your stay and enjoy your time in Lech later.
Information from the region
The region Lech Zürs could gain experience in dealing with Covid-19 this summer, and is thus optimally prepared for the coming winter. To keep you updated with what's new, the region page always holds ready the current developments. Find the safety information for your winter holidays here.