THE BRAUNARL RESIDENCE
Our extra services
The Braunarl Service PLUS extras
With or without breakfast, with the Braunarl Service Plus you enjoy an indulgent time at the Braunarl residence. We love spoiling you!

Shopping service
On request, we will stock up your fridge before you arrive. Milk, butter, bread, eggs ... an "indulgent starter pack" for your holiday. Price depending on order.

Breakfast buffet or fresh rolls service
A good start in the morning – breakfast buffet at the Braunarl for the price of €14 per person. Fresh bread rolls on your holiday apartment door in the morning. Fresh rolls service. Price depending on order.

Lech Card:
"If you are looking for extraordinary experiences all inclusive on vacation, the Lech Card offers a lot of holiday fun."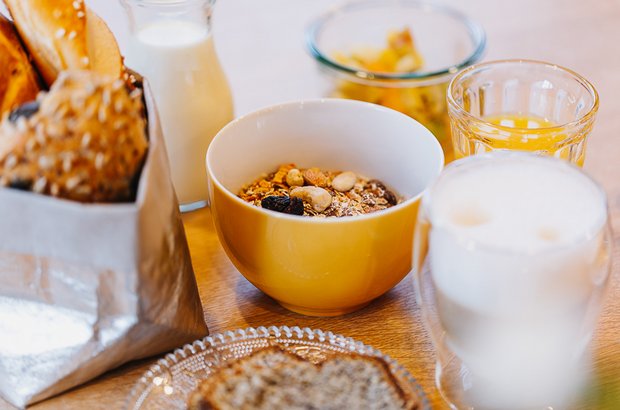 A summer treat:
we are very happy to indulge you in the evening with an exquisite 4-course dinner at the Hotel Aurora (just 200 m away). Menu price from approx. €35 per person.
You can tell us which catering you would like when you make your final reservation or when you arrive.

Massage appointments at the Hotel Aurora:
Classic massage, 50 minutes €85
Classic massage, 25 minutes €50

Sport and adventure in Lech am Arlberg
Experience the beauty of the Arlberg safely by the side of a professional guide. Whether on foot or by mountain bike - Daniel Kreil, a state certified bike guide and hiking guide is happy to accompany you to the most beautiful spots. Anyone who craves extraordinary experiences on holiday should not miss out on the Arlberg Alpin programme.