Two lakes, one river, much relaxation
Fishing in Lech
Spullersee, Formarinsee, Lechbach: how we reel in passionate anglers
Fishing and fly fishing in and on the Lech – clear waters, unspoilt natural scenery and effervescent lightness amaze any fishing lover here. At the end of the day it's not every day that two lakes and one stream can be found in such an inviting setting making fishing on the Arlberg a pure pleasure in stunning mountains.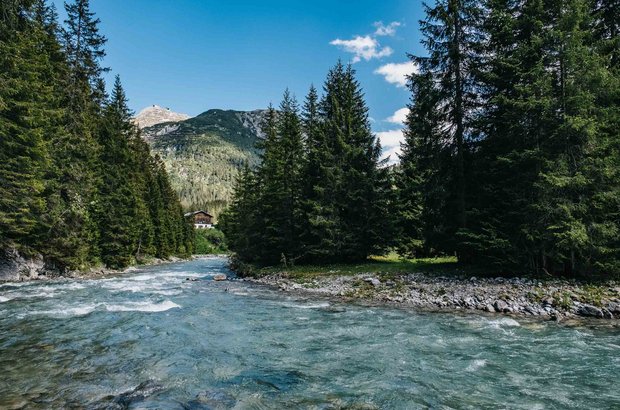 Spullersee
The Spullersee Lake is situated at 1,810 m altitude surrounded by fantastic mountain scenery. Easy to reach using the Lech local bus (with tolls from Zug), this lake offers everything an alpine angler's heart desires. Rainbow trout, brown trout and lake trout, Arctic char and brook trout as well as wonderful fish from the salmon family can be caught almost anywhere in the roughly 50-hectare reservoir.
Season: 10 June to 29 Oktober | day pass 39 €
Formarinsee
The Formarinsee Lake is just as easy to reach by Lech's local bus via the toll road into the Zugertal valley as the Spullersee. This mountain lake in the Lech headwaters is not just the starting point of the Lech's path but also an exceptional natural treasure that has recently received special attention in the media too: in 2015 the Formarinsee Lake and the Rote Wand mountain were chosen as Austria's most beautiful spot by an Austrian television programme due to their unique beauty. The lake accommodates a good stock of rainbow and brook trout. The magnificent nature does its bit for unforgettable fishing in the mountains.
Season: 1 July to 30 Sepember | day pass 35 €
Lechbach
The Lech is a typical high mountain stream that can be fished along its entire length of 19 km in total. From the confluence of the Markbach to the confluence with the Krumbach at the border with Tyrol, the Lechbach is paradise for fly fishers in particular. Gentle trickling shingle stretches, deep crystal clear pools and gushing gorges characterise its extremely varied appearance. While the Lech is very easy to reach and walk between Lech and Zug, the terrain towards Warth is only suitable for very experienced and sure-footed anglers as there are no paved paths leading to the water. It is recommended that you use the experience of a local guide here. Chest waders and a wading staff are also recommended. Fish species that can be found are brook trout and occasionally grayling and rainbow trout.
Season: 10 June to 30 September 2023 | day pass 49 € with Lech Card, 56 without Lech Card
Fischteich Zug
The Lech fish pond on the Lechbach in the Zug district is also open to you. You can also hire fishing equipment and bait there, if required, and with a few little tips even beginners have a good chance of getting their first catch. Additional service at Zug fish pond: the trout and char you caught yourself can be prepared for you straight away afterwards in the Fischerstüble, on request. And anyone who didn't have fisherman's luck on their side or simply wants to enjoy a good fish meal can also indulge themselves here. With a large terrace and children's playground next to, the fish pond and Fischerstüble are also great for a lovely day trip with the whole family.
Season: 16 June to 10 September 2023
After your successful day trip, you are welcome to hand your freshly caught fish over to our chef Steve who will conjure up a fish dish of your choice out of it.
A fish menu and one or two other secret tips await you at the Hotel Aurora and Braunarl residence. So send your non-binding enquiry for your fishing holiday to us straight away.