On two or four wheels: the Arlberg awaits you
By car and motorbike in Lech
And the world is your oyster
And much, much more. At the end of the day, Lech is the ideal starting point for countless, variety-packed day trips. Right at the start spectacular alpine passes, lonely valleys and serene lakes ensure unforgettable motorbike or car trips, in fact they are so beautiful that use
is often made of "quickly pulling over to the right". It's not a problem as you're on the road and have left the hectic rush at home.
Three countries: 1,000 kilometres of roads
Once you've left the countless bends, hairpin bends and almost endless winding roads around Lech behind you, other highlights await you for your day trip, circular tour or tour over several days. Everything very leisurely as all routes can be navigated using GPS. And where to next now? The possibilities are great, as are the wonderful impressions that you gather during the journey regardless of which destination you are driving towards. You have the choice between western Austria, Bavarian Allgäu and several Swiss cantons. By the way, the alpine passes can usually be driven without any problems from the end of May to the end of October. However, you should reckon on snowfall now and again during the summer too. We will be happy to inform and advise you.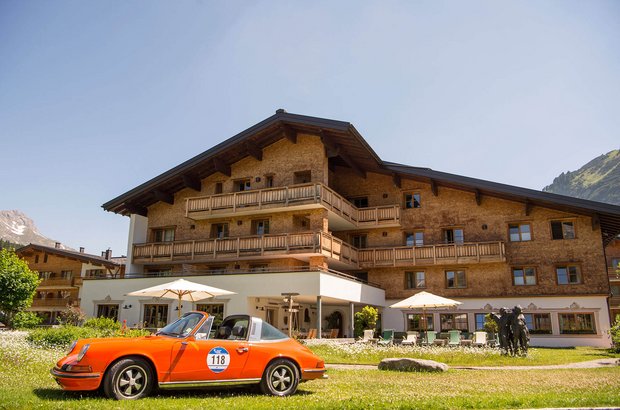 Wonderful trips: wonderful destinations
Why not combine your motorbike tour on the Arlberg with a visit to a Medieval city, a boot trip on the Lake Constance or a visit to cultural monuments and open air festivals. Numerous sights along the bike routes give you an interesting sight on your holiday with your motorbike or car into the history and culture of the three countries: Bavaria, Austria and Switzerland. As mentioned at the start – the world is your oyster. If you go by the numerous possibilities and fantastic variety of experiences this sentence is definitely true.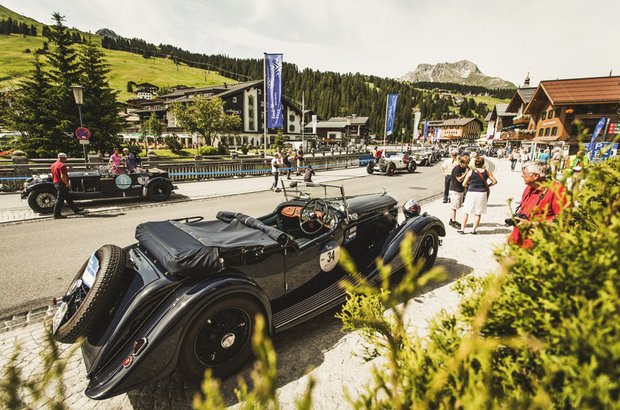 With style and class – the Arlberg Classic Car Rally
The popular Arlberg Classic Car Rally take place every year in July. New friendships are made and old ones are strengthened time and time again on this route through magical alpine scenery. The stunning mountains around the Arlberg are the actual highlight for the enthusiastic participants with more than 100 vintage cars.
Welcome to the perfect starting point for motorbike trips and day trips by car – we look forward to receiving your non-binding holiday enquiry and to being able to advise you on planning your tours.