Medicinicum Lech - events on the Arlberg
Health forum in Lech am Arlberg
Avoiding illnesses, living healthier and more mindfully: Medicinicum Lech is a unique event focusing on important health issues. As Vorarlberg's most important public health event, Medicinicum Lech, which takes place every year in the summer, is dedicated to today's much respected and discussed health issues.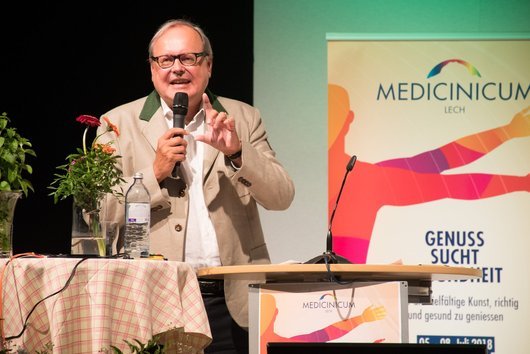 Hot public health topics and renowned experts
International experts provide answers to a whole variety of questions and discuss with the audience how to achieve a healthier life and keep your health in balance at Medicinicum Lech. Public health is becoming more and more relevant in times of lifestyle diseases. As health is a wide field that encompasses both the body and mind as well as nutrition and social issues, Medicinicum also wants to provide a holistic view on the discussed topics. Which is why not only luminaries from a whole range of different disciplines come to Lech but also specialists from other fields. As a result, doctors are just as well represented as best-selling authors, philosophers, nutritional advisers and sports trainers, thus covering a wide range of perspectives and approaches.
You can find all the information about Medicinicum Lech at: www.lech-zuers.at/medicinicum-lech.
Entertainment programme
Besides the discussions and lectures, an exciting entertainment programme also communicates the practical aspects of a healthy lifestyle at Medicinicum Lech. Anyone interested is invited to take part in workshops, indulge in wine tastings, chat to speakers at the Medicinicum bar in the evening every day, take guided hikes or enjoy specially created menus. You can also obtain information about different health products presented by select providers on site.
Are you interested and would you like to find out more about a healthy balance? Would you like to join in the discussions? Then send us your non-binding enquiry for Medicinicum Lech or even better reserve your ticket straight away. Be there at one of the most enlightening events on health in the Lech mountains.